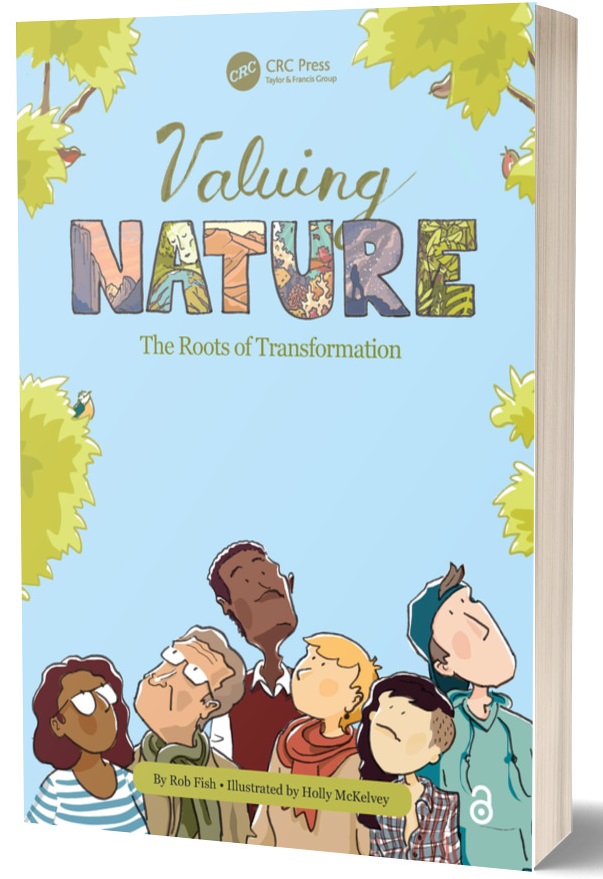 With scientists and policy makers gathering this November for the 26th annual global climate summit, the impetus to "value nature" has never been more compelling: this may well be the world's best last chance to get climate change under control and reconnect with our planet before it's too late. Scientists are increasingly asked to frame and value nature in terms of 'resources', which only serves to entrench the schism we have generated between ourselves and our environment. This unique graphic novel style comic book intends to heal this separation wound, taking the reader on a journey on the valuation of nature - potentially the key to a truly sustainable future.
Available as an Open Access eBook [here] and as a paperback to purchase [here]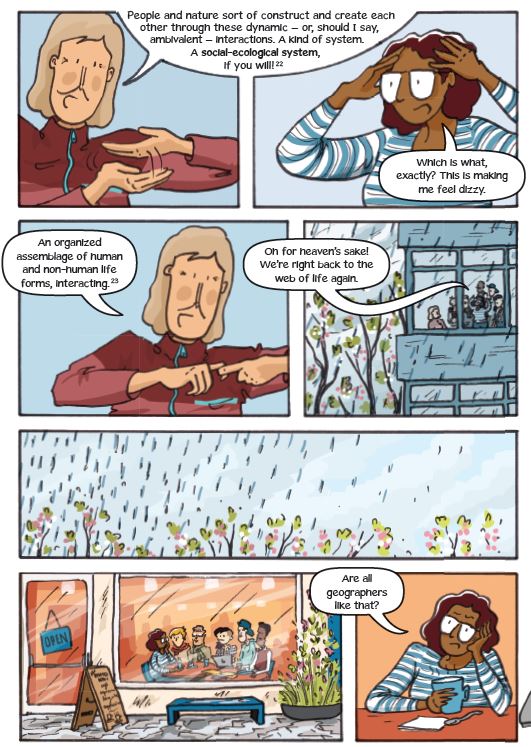 The idea of 'valuing nature' harmonises diverse areas of natural resource management and is a critically important dimension of scientific and practical work concerned with managing ecosystems and habitats for sustainability. This illustrated "comic book" explores the issues that arise from this growing interest and concern in the valuation of nature.
Set around the premise of a motley group of undergraduates endeavouring to complete a university assignment on 'nature in the modern world' the book explores the many and diverse meanings people assign to nature, the different ways the relationship between people and nature might be characterised, the many values systems people hold for the natural world and the options and approaches society can deploy to manage it. It also looks at the extent to which we need entirely new economic systems to protect and sustain nature.
"This is an important publication for the times.  Having all gone through a challenging period, as a society we have realised just how valuable nature is to our health and wellbeing.  Tackling the climate and ecological emergencies require an interdisciplinary understanding of our relationships with nature and the interconnected way in which nature should be viewed, managed, and protected.  Valuing Nature: roots of transformation is a unique and innovative approach to enhancing this understanding, reaching out to students and also accessible to a broader audience.  Another excellent work from the successful, interdisciplinary Valuing Nature Programme, this book by Rob Fish and Holly McKelvey will be a lasting legacy."

Dr Weihao Zhong, Senior Programme Manager, UKRI-NERC
This highly interdisciplinary book, presented in unique graphic novel format, invites consideration of a range of philosophical and applied debates and questions. Written in an accessible style, it is an ideal undergraduate text as well as a general primer for graduate natural and social scientists embarking on interdisciplinary research in the natural resource management arena.
Check out the Book's Instagram @valuingnaturebook
The Author: Rob Fish is a social scientist and human geographer, based at the University of Kent. Rob has published widely on the social cultural and participatory dimensions of natural resource management and has played a prominent role in the elaboration of interdisciplinary approaches to the valuation of nature within environmental policy and decision making. He is a founding lead editor of the British Ecological Society's People and Nature: a journal of relational thinking. Rob was the Arts and Humanities Lead of the VNPCT. 

 

The Illustrator: Holly McKelvey is an illustrator and visual science communicator based in Freiburg, Germany, whose travels as well as her background in geology and ecology flavour her art on the relationship between humans and nature. Her work has frequently been published in the British Ecological Society's magazine The Niche, and she has collaborated with German Watch and PAN Germany, among others. She is also a founding editor and illustrator for Stonecrop Review, a literary magazine on urban nature.